Chaughadiya
If any work is started on the right time or situation,then chances of their results will be stronger.After catching of that right time, auspicious work starts in choghadiya. You can see,choghadiya of your good works.
choghadiya of special day and night,is started from the sunrise and sunset.Every choghadiya has a time of one and half hour. According to the time, choghadiya is divided into three parts- Bright, medium,evil choghadiya.In all these, every one should prevent themselves to start a new work in evil's choghadiya.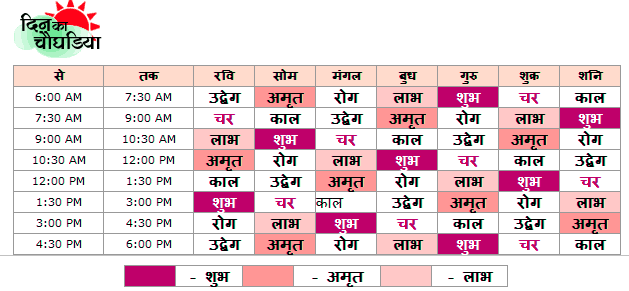 Auspicious choghadiya for good (Swami Guru), for nectar (Swami chndrma), for fruit (Swami budh).
On Medium choghadiya (Swami Shukra).
Evil's choghadiya for Udbeg (Swami Surya),for Black (Swami Shani), for Disease (Swami Mangal).